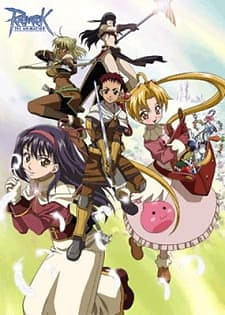 Ragnarök The Animation
Watch full episodes Ragnarök The Animation, download Ragnarök The Animation Indonesia subbed, Ragnarök The Animation Indonesia sub, download Ragnarök The Animation Indonesia sub, stream Ragnarök The Animation at RiiE .
Ragnarök The Animation
Tonton streaming Ragnarök The Animation Indonesia Subtitle di RiiE . Kalian juga bisa download gratis Ragnarök The Animation Indo Sub, jangan lupa nonton streaming online berbagai kualitas 720P 360P 240P 480P sesuai koneksi kalian untuk menghemat kuota internet, Ragnarök The Animation di Animeindo.Site MP4 MKV hardsub softsub subtitle Indonsia sudah terdapat di dalam video.
Synopsis Ragnarök The Animation
Kisah ini terjadi di Rune Midgard, sebuah dunia yang dihuni manusia dan monster. Suatu ketika terjadi suatu keanehan di mana banyak manusia yang terbunuh oleh segerombolan monster. Sejak itu suasana di Rune Midgard dipenuhi dengan peperangan antara manusia dan monster. Roan adalah seorang swordsman yang berkelana bersama teman masa kecilnya, Yuufa yang memilih profesi menjadi acolyte. Roan menjadi swordsman karena ingin menjadi seorang knight seperti Keough, kakak Yuufa. Suatu ketika Roan, Yuufa, Keough serta Iruga (seorang assassin sahabat Keough) pergi ke Glast Heim karena ada sesuatu yang ingin mereka selidiki, tetapi Keough kemudian terbunuh oleh monster yang menjaga Glast Heim (dalam game monster itu bernama Abyssmal Knight). Sejak itu Roan bersama Yuufa terus berkelana dan mengalahkan monster-monster untuk menjadi lebih kuat. Dalam petualangannya, mereka bertemu seorang merchant bernama Maaya dan mage bernama Takius. Bersama-sama mereka melanjutkan petualangan dengan dibantu Iruga dan Judeia, seorang hunter yang selalu menemani Iruga. Selama perjalanan mereka mulai mengetahui rahasia dari kejadian-kejadian aneh yang ada di Rune Midgard. Mereka juga bertemu dengan Keough yang mereka kira telah mati….